Old, dead sections...
Out with the old, in with the new, mediocre content. Unfortunately, though started with much love, for one reason or another these sections have just fallen between the cracks and out of my list of things to do on WAG. Rather than delete them for all time though, I thought I'd just create a small section(this one you're at now) to house and preserve the deceased. As always, if you have any questions or anything on them be sure to shoot me an
email
. Even though the sections are pretty much dead to me, I'm still willing to answer questions and such regarding them.
Note: Dead sections are preserved exactly as they were when they were major parts of WAG.

With the sad death of Ads.com and new shows like Chappelle's Show, making fun of TV commercials, and actually coming up with original things to say about them has become just a bit more than I want to put into it. All of the commercial rants I have ever posted are still there, if you care to look...

Originally started when I was working out of the house, I had quite a lot of stuff planned for this section. Sadly, it didn't pan out. Now that I have a normal 9 to 5 job, I just don't have the time or energy to work on this section as it takes so much of the little time I get to spend at the house.

"Cubed Gaming" was my attempt at starting a review section for GameCube and GBA titles(via the GBA Player). It started out well enough, I had completed a review for TMNT in no time...but after that the GC's appeal began to rapidly wear off. My disgust in owning anything "Nintendo" quickly came crashing through the gates...and off to ebay it went...

Neo Geo: Hardcore started out well enough, with a decent amount of content and quick reviews, all "generation 2" at that...but those fucking long-ass load times just really killed it, and subsequently the section, for me. I had planned to continue on using the Dreamcast and Neo4All as my NGCD machine, but that never really panned out as the emulator wasn't really up to par on a lot of the titles and seems to have been discontinued. This is another section that really upsets me to have to shelve...but these are the breaks, I suppose...

(attempting)Mac Classic Gaming was, believe it or not, one of the first two sections of the site and my main reason behind building WAG. I still have preliminary sketches of the front page where the only text on *any* of the buttons was "(a)MCG" or "Old School Sega Section". Sadly, my interest in the Mac ran out shortly after getting my first PC. From there I started replacing all the apps and games with the PC versions and just kept going. Originally I had planned this section to be a resource for the hardcore, classic Mac gamer, hosting hard-to-find patches(including the Rise of the Dragon sound patch that I, personally, came up with), doing little walkthroughs on how to get some of this older software loaded and running on a current Mac and eventually even hosting Mac abandonware titles. Sadly, most of that never came about. I did, however, get some quick reviews posted as well as a variety of game patches. Due to storage issues, back when I used to have them, the section was scaled down to only host patches for games that I had some sort of page up for, and then only hosting patches for games that I had actually reviewed. Of all the areas I've had to move to "Old, dead sections", this one hurts the most...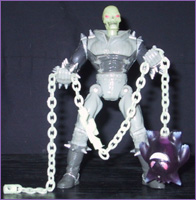 Whip Ass Gaming Linkers
Basically, a section built specifically to thank those who had linked to WAG. Using The Counter's "Last 30 Referrers" feature, I started noticing that certain sites were sending quite a bit of traffic my way...thought it'd be fun to not only list them, but link to and comment on exactly what they were doing that involved WAG. Sadly I didn't keep up with it quite as much as I had intended, and then virtually forgot about it later on. Having not been updated in years, but still loved(as everything here in Dead Sections is) I thought it appropriate to go ahead and transfer it to its final section of the site.